6 Advantages of Living Near Water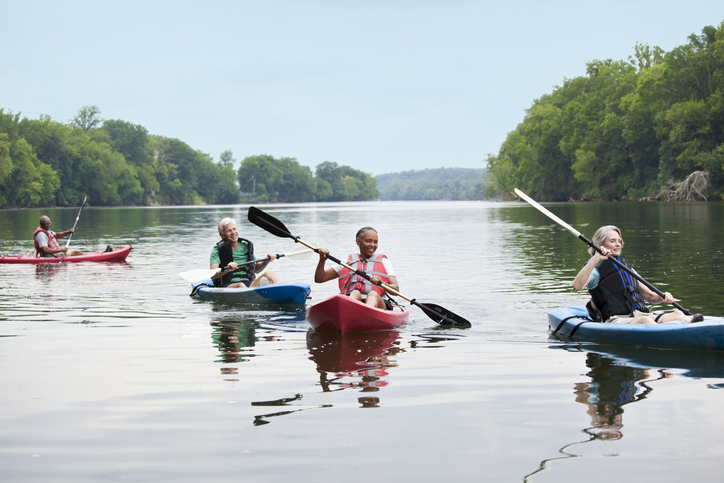 You've probably experienced the draw of the water. Whether it's a lake, an ocean, waterfall, river or even a fountain, there's something calming about being by and hearing the sound of water. Various studies have shown that living near water — or "blue spaces" — switches the brain into a different mode that encourages creativity, resilience and imagination. 
Why You Should Consider a Waterfront Senior Living Community
Retiring near water at a community like Lake Port Square can not only let you enjoy an active lifestyle, but you'll also be able to take advantage of these other  benefits of living near water:
Fresher air:

By living near the ocean — or other large body of water — the air you breathe tends to be fresher. That's because air exposed to water will be charged with more negative ions, which helps with the absorption of oxygen. It can also positively increase serotonin levels, a neurotransmitter that plays an important role in mood stabilization, cognition, learning, memory and sleep.

Stronger immune system:

When you

live near water

, you feel more relaxed and less stressed. Stress hormones can break down your body's defenses and leave it open to bacteria and viruses. With a strong immune system, your body is better positioned to help fight infections and illnesses. 

Improved sleep:

The sound of water can calm your body and mind. In fact, even just looking at a body of water can make you feel better and more relaxed. The more relaxed you feel, the easier it is to have a deeper, more restful sleep pattern, helping you feel more rejuvenated in the morning.

Greater relaxation:

One of the

benefits of living near water

is that it ensures you have a restful place free of roads, buildings, and the hustle and bustle of traffic. Being in nature can also help you become more mindful, because you're paying attention to your surroundings: The sound of the wind in the leaves. The singing and aerial acrobatics of birds. The flowers and subtle changes in the ground cover and other plants. 

Increased happiness:

Researchers have shown that our mind enters a meditative state when we come near water. Looking at a large body of water naturally increases our levels of feel-good hormones like dopamine, resulting in increased happiness and feelings of relaxation.

More opportunities to get outside:

One of the greatest

benefits of living near water

is it gives you more opportunities to enjoy the fresh air and sunshine. While there are a lot of health benefits for simply sitting by the water and taking it all in, it also offers unique opportunities to exercise. You can swim, fish, paddle a canoe/kayak and even enjoy a walk along the shore. You can also just relax with a book in the shade. 
Retire on the Water. Retire at Lake Port Square.
If you're considering senior living communities near the water, take a look at Lake Port Square. Our amenity-rich Life Plan Community is located within a 78-acre certified nature preserve on the shores of beautiful Lake Harris. Featuring a lakefront gazebo, dock and pontoon boat, our community is truly a haven for nature lovers. To learn more about Lake Port Square, or to schedule a visit, contact us here.