How to Organize Your Walk-in Closets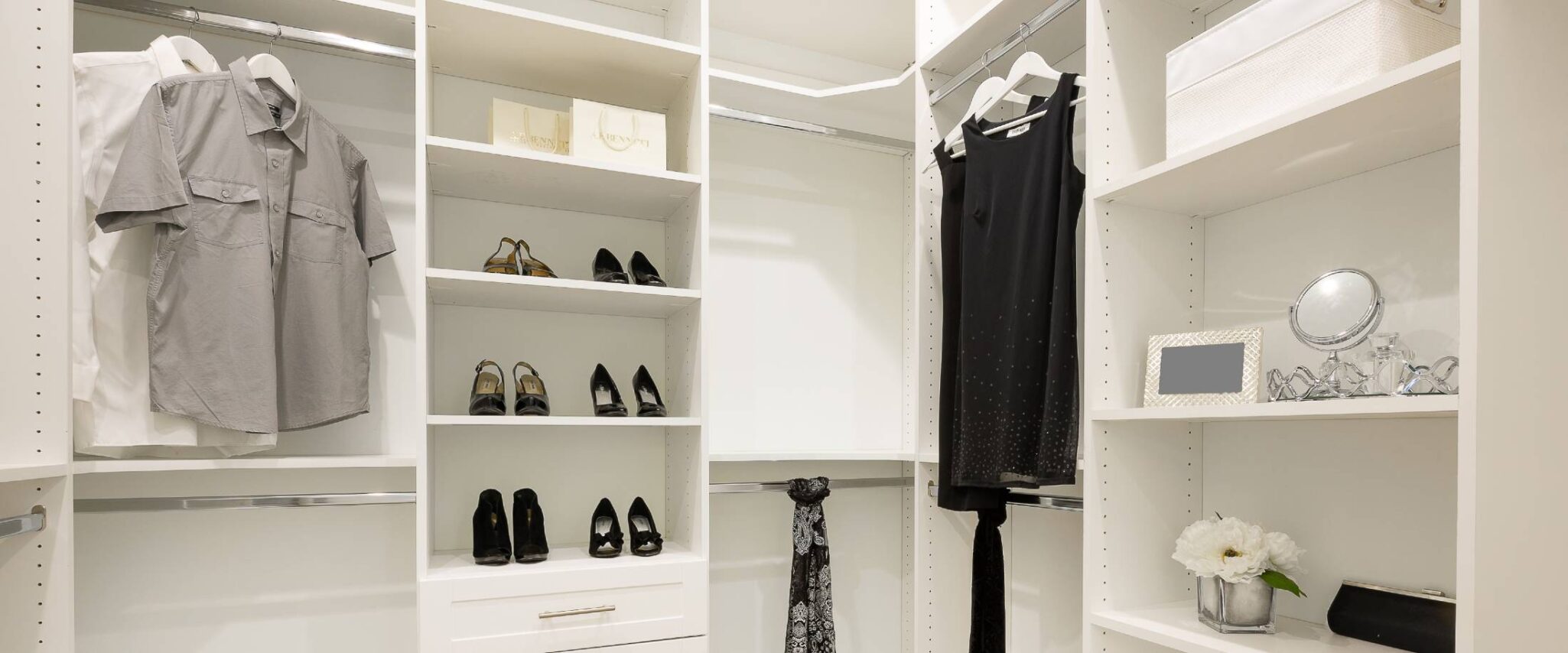 Downsizing to senior living means making smart use of available space. And this goes for the walk-in closet in your new home too. Walk-in closets work best when you have a thoughtful plan to go along with them. Start with these four steps to design your own plan, and then read through our list of closet organization tips and tricks to ensure you're optimizing every inch.
1. Take everything out of your closet and divide it into three piles: Keep. Donate. Discard. If you haven't worn or used an item in 12 months, or if it's worn, stained or frayed, it should go.
2. Organize your clothes by taking inventory and sorting them into groups. Decide how to place these groups in your closet space.
3. Examine your empty closet to plan how these groupings can be organized, either by using the existing racks, rods and shelves, or by adding new ones.
4. Think how you can squeeze more use out of nooks and crannies that are normally "dead space."
Walk-in Closet Ideas: Begin with the Basics
What walk-in closet design are you working with? Whether you have a U-shape with three walls, an L-shape with two walls, or a narrow I-shape with one wall, all these designs are suitable for folded or hanging garments, shoes, accessories and other clothing items.
A good foundation for a fully functional closet for either a man or a woman is a leading rod for hanging clothes and a set of open shelves. To this simple system, add prefabricated closet organizers you can find in any home hardware store, such as double rods, hanging drawers, a floor-set shoe rack, and closed or open cubby storage. Labeled bins on a shelf above the hanging rods can hold seasonal clothing, hats and sports gear. Add a valet stand to air a jacket or dress and hang out creases.
Walk-in Closet Ideas: Design Tips
Lighting: Consider installing additional lighting if your walk-in closet isn't well-lit. This could be a wall or ceiling fixture, a floor lamp if there's room for one, or a battery-powered LED light strip. If you have the space, a beautiful chandelier can make even a small closet space feel stylish and inviting.
Décor: Add a Mirror – Having a full-length mirror nearby is helpful when you're dressing and accessorizing, but even a small mirror can be useful. Find a style you love — an ornate free-standing one if you have the space, or hang a flat mirror on the back of a door. A mirror with a built-in light source is also a good choice for a smaller space.
Paint or Wallpaper: Add a statement wall with a coat of paint or patterned wallpaper. You can also create a personalized look by painting a stencil pattern along the walls and ceiling.
Cedar planking: Installing cedar planking is a warm and rustic touch; it protects your clothes from moths and smells great too.
Seating: Whether you have space for a storage bench or a sturdy stool, having a place to sit to pull on hose, socks or shoes can be very handy. A padded pouf adds a touch of glam.
Iron in place: A built-in ironing board folds down when you need it, eliminating the need to heave one in from elsewhere.
Texture: Instead of plastic storage bins, use fabric or woven baskets to add warmth and texture to your closet's interior.
Art: Hang some art or display a favorite art piece so your walk-in closet reflects your personal style and feels less like a  utility space.
Knobs and pulls: Change them for an easy DIY update. Get a new matching set, or mix and match choices for a unique look.
Walk-in Closet Ideas: Organization Tips
Try a variety of storage ideas such as open cubbies, baskets, bins, and cabinets to add to the standard hanging rods and shelves found in most walk-in closets.
Keep often-used clothing, shoes, belts and purses where you can see them.
Open storage such as shelves are best for keeping folded items neatly stored, within view, and convenient for putting things away quickly.
Store small, folded garments, accessories, socks and underwear inside closed storage containers to avoid clutter.
Attach L-hooks to the walls to hang items such as belts and coats. Use S-hooks on clothing rods to hang tank tops and totes, or to hang men's trousers and jeans by their belt loops.
Baskets and cubbies are ideal for small items like socks and lingerie. Even pajamas and underwear can be rolled up and put in storage baskets to save space.
Attaching a fold-out valet hook to a wall allows you to hang up a coat instead of throwing it on the floor or plan an outfit in advance.
Colorful lidded boxes and baskets bring personality and fun to large and small closets. Your personal color coding makes it easier to identify specific items at a glance.
Repurpose existing furniture pieces that will fit in your new closet. For example, tucking a narrow dresser with drawers in a corner could provide a place to store and try on ties and jewelry, especially with a mirror and light on top.
Walk-in Closet Ideas: Space-savvy Strategies
Dividing even a small walk-in closet into zones increases its utility. Try a room divider to create a dressing area or hang clothes while putting together an outfit. A bench seat with a lift-up top provides extra storage and a place to try on shoes. Bins on the floor can hold accessories like totes, umbrellas or sun hats to grab on your way out.
Make the most of an odd-shaped closet or one with a sloped ceiling by installing custom-sized rods and shelves. Even a short rod can be useful for hanging necklaces, scarves or belts, and tiers of narrow shelves provide storage for stacks of t-shirts or items like clutch bags.
Maximize "air space" by installing shelves that rise all the way to the ceiling to stow rarely used items. Clear containers with lids are best for storage, so you can see what's up there.
Stay Safe
Whether you're organizing an existing walk-in closet or customizing a new one, make sure all shelves and fixtures are stable and secure, so there's no danger of them coming loose or falling on you. The storage bins and baskets you choose should also be light and easy to lift or carry. Keep the floor clear of clutter or protrusions that might pose a tripping hazard. And, if you know you'll need to reach items up on a high shelf, get a small folding step ladder with a handrail for safety's sake.
Now Take a Look at Lake Port Square
Imagine all the living you could do in one of our beautifully designed independent living apartment residences. Every one of the senior apartment floor plans at Lake Port Square offers plenty of living space and lots of storage, including a roomy walk-in closet. You can take a virtual tour of featured floor plans by clicking here. Like what you see? Contact us to arrange a personal appointment and walk through your favorite floor plans in person.