5 Benefits of an Independent Living Lifestyle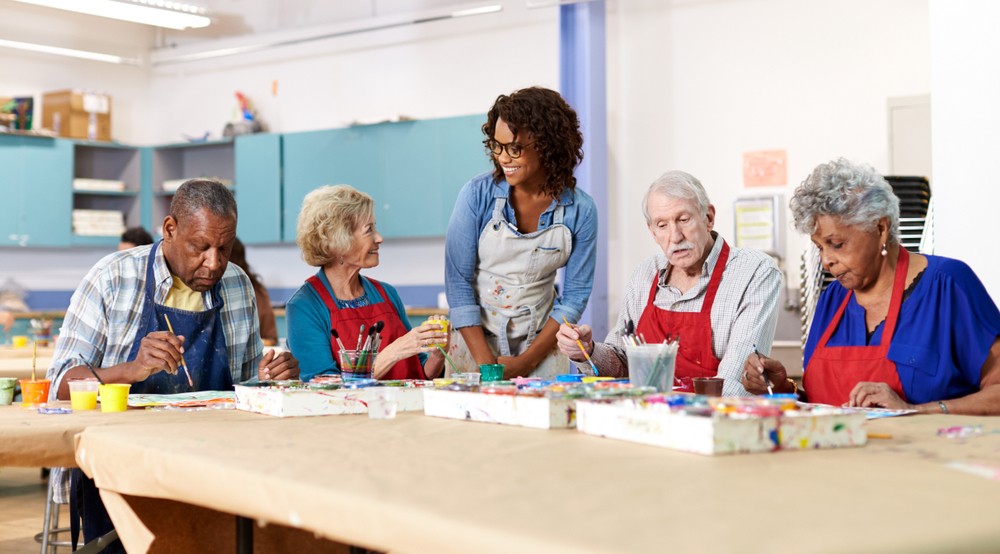 Independent living is a senior living option for older adults who don't need help with daily tasks and activities, but want a more convenient and carefree retirement-lifestyle. Residents live in a vibrant community, while enjoying resort-style amenities and services designed to enrich their life daily.
At Lake Port Square, we're dedicated to providing an independent living lifestyle that exceeds your expectations. Look at these five benefits of senior living and find out how our community is taking retirement to the next level.
1. Maintenance-free living for a carefree lifestyle 
Independent living provides a maintenance-free lifestyle that can save you time and money. You won't need to worry about landscaping or lawn care, or costs specifically associated with homeownership, like roof repair, replacing appliances, property taxes, HOA fees,and insurance.
Here are just some of the ways Lake Port Square takes care of the little things so you have more time for what you want to do:
Lawn care and grounds maintenance
Housekeeping and linen services
Banking services
Personal concierge services
Regularly scheduled transportation
Maintenance-free residences, with most utilities included (private telephone and internet service are separate)
With a wide variety of floor plan options, you have the opportunity to choose one that's perfect for your lifestyle. For instance, the Benton East floor plan is perfect for older adults who want a one-bedroom residence that's a breeze to clean. The Sumner is a two-bedroom floor plan that's ideal for those who want a little extra space for their hobbies, an office or a guest room.
2. Endless amenities, activities and events
While your current home may have plenty of space, it just doesn't have the room for amenities that make for an incredible retirement. Senior living communities like Lake Port Square feature amenities, activities and events that match a variety of interests.
These are many ways our residents enjoy a world-class independent living lifestyle at our community:
Full calendar of events and activities
Arts and crafts studio
Billiards and game room
Library
Woodworking shop
Full-service salon and barbershop
Lifelong learning, discussions, classes and outings
Frequent shows and concerts on campus
Along with top-of-the-line services and amenities, you'll also find abundant social opportunities are a big part of the  independent living lifestyle at Lake Port Square. For instance, you can gather with your neighbors at Happy Hours, music nights and themed dinner parties, spend a relaxing day on our pontoon boat with your friends, take your grandkids to our lakefront dock and gazebo, or join a resident interest group.
3. Abundant ways to stay active
Motivation to stay physically active and work on your wellness routine can be tough to find at any age. Plus, making room in your budget for fitness classes like yoga, gym memberships, and golf club memberships can take a big bite out of your retirement budget.
While we can't speak for other senior living communities in the Central Florida area, Lake Port Square features a plethora of ways to inspire residents to lead an active lifestyle for a healthy mind, body and spirit.
Here's how our residents stay active at Lake Port Square:
Four-hole putting green
State-of-the-art fitness center
Personal training classes
Group fitness classes
Heated indoor pool and whirlpool spa
Walking and bike paths
Community flower and vegetable garden
Lake Port Square is a pet-friendly senior living community, which means your furry family member can also enjoy an active lifestyle. With less time spent on household chores and maintenance, you'll have time to leash up your pup and explore the 78 acres of landscaped grounds and gardens that surround our community.
4. Delicious dining for any occasion 
If you're like most people, you like a variety of meal options. Some days you might feel like a hearty meal made with your favorite comfort foods and other days may call for something light, like a simple salad. However, stocking your pantry and refrigerator with all the ingredients you need to make healthy and delicious food at home is expensive and time-consuming.
Dining in independent living offers a way for you to experience gourmet food every day, without having the hassle of going to the grocery store, cleaning up a messy kitchen, or traveling to a restaurant across town.
See how we make dining delectable at Lake Port Square:
You can enjoy meals in a formal dining room or The Bistro.
Chefs and culinary teams use fresh, seasonal ingredients for every meal.
Menus change regularly, so there's always something exciting for you to try.
Friends and family are always welcome.
We offer private dining rooms for entertaining large groups.
We're always happy to accommodate special dietary needs, including vegetarian, heart-healthy and sodium-free.
Residents also have the flexibility to eat where they choose. Is your favorite TV show airing a special during dinnertime? Have your meal delivered. On your way to your next activity? Get your meal to go. Of course, you can always show off your cooking skills whenever you desire, because each independent living residence features a fully equipped, all-electric kitchen including an oven with range and frost-free refrigerator/freezer.
5. Unmatched hospitality
Lake Port Square knows the way we provide services is just as important as the services themselves. Our signature program, Extraordinary Impressions®, cultivates a vibrant culture of hospitality and service, which lets each resident know how essential they are to our community every day.
You can always expect the team at our senior living community to:
Greet you and your guests with a warm smile.
Treat you with courteous respect.
Anticipate your needs accordingly.
Make you feel important.
Listen and respond enthusiastically.
Hold ourselves and one another accountable.
Be professional, in conduct and appearance.
Lake Port Square is also a Life Plan Community, which offers you priceless advantages, along with higher levels of living, should you ever need them. Our continuum of care includes assisted living, skilled nursing, and rehabilitation services delivered by a multidisciplinary staff in a comfortable homelike setting.
If you experience a change in your health, you can seamlessly transfer from independent living directly into a care level that matches your needs. And with our high staff-to-resident ratio, we give every person the personalized attention they deserve.
Discover the Hidden Gem You've Been Looking for at Lake Port Square
The warm, inclusive culture in our community will help you feel welcome right away, and our variety of resort-style services and amenities make every day feel like a vacation. To learn how you can come home to exceptional independent living at Lake Port Square, contact our senior living representatives online or sign up for one of our events. We'd love to get to know you!