The Benefits of Fishing in Retirement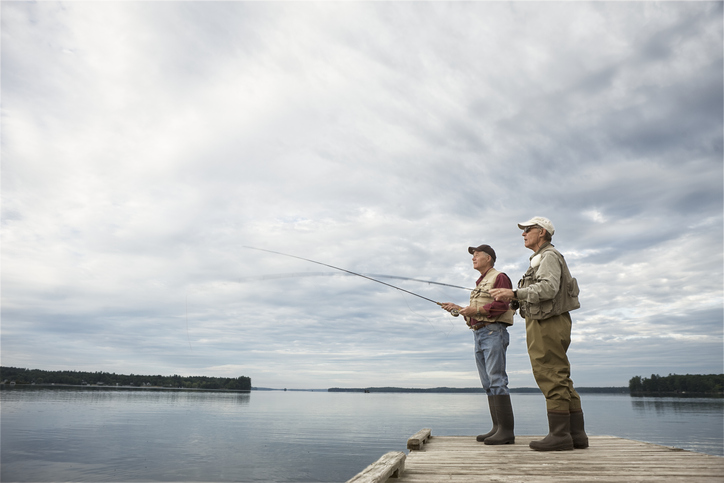 Your retirement years are the perfect time to revisit old hobbies and explore new ones. If you love spending time on Florida lakes or near the water, fishing is a great way to get fresh air and spend quality time with friends and family. Plus, fishing is a fun and rewarding activity that comes with tremendous benefits for your physical and mental health.
Want to learn more about the benefits of fishing for older adults? Here are some reasons to get hooked on fishing in retirement:
1. Provides light physical activity
Although waiting for a fish to bite may not feel like exercise, fishing helps you stay active in a number of ways. You'll benefit from the upper body movement involved in casting and reeling in a catch, as well as the dexterity, motor skills, and hand strength needed to control the fishing rod and bait the hook. Whether you fish from the dock or seated on a boat, you're working on your balance and engaging your core. Plus, you'll probably get some exercise when you walk to the fishing dock or boat launch area, and it all adds up. 
2. Increases your concentration
As any experienced fisherman knows, fishing is an activity that takes a lot of patience and mental focus. Staying focused on the task at hand allows you to clear your mind and let go of other distractions. Fishing requires concentration to stay alert while you're waiting to reel in a catch, which in turn may help keep your mind sharp as you age. 
3. Boosts your vitamin D intake
Being outdoors in the fresh air and sunshine can help you feel energized. What's more, spending time outdoors helps your body absorb more vitamin D from the sunshine, which can give your health a boost.
4. Reduces your stress levels
Fishing allows you to relax and unwind in a calm and peaceful environment. Many people find their stress level goes down as they take in the natural surroundings and the gentle movement of the water. Even the repetitive motion of casting the rod back and forth can help you let go of stress and enjoy the present moment.
5. Connects you with friends and family
Fishing is a fun and memorable way to spend time with friends, children and grandkids. Just think of the stories they'll have to tell from your adventures together! Even if you don't catch anything, there's plenty to gain from the conversation and meaningful moments in the company of good friends.
6. Keeps you active an any age
Fishing is a lifelong hobby that can be enjoyed at any stage of life, and with the right modifications and support, you can continue fishing even if your physical abilities change. Loading up your gear and finding the perfect fishing spot may take some planning, but it's worth the effort to get out there!
Experience Lakeside Living at Its Best
At Lake Port Square, we make it easy to stay connected with your favorite hobbies and spend time doing what you love. Our campus sits on a 78-acre nature preserve by Lake Harris, where residents enjoy many lakeside recreational activities like fishing, pontoon boating and more. It's the perfect place to teach your grandchildren how to fish from our pontoon boat or dock, or enjoy the peaceful quiet of the waterfront on your own or with friends.
We can't wait to show you the perks of lakeside living in our vibrant senior living community. Please contact us to learn more about moving to Lake Port Square.