What to Look for When Evaluating Senior Apartment Floor Plans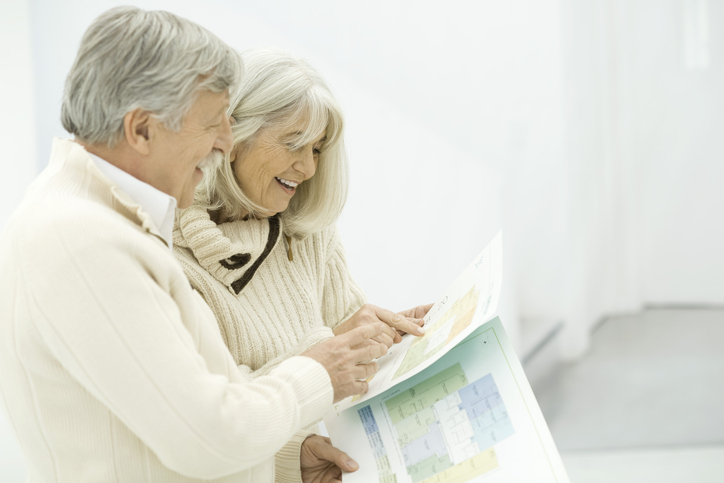 Comparing senior living floor plans is an important step as you consider where you want to spend your retirement. Making decisions about the number of rooms, square footage, and apartment features can be both exciting and overwhelming, and it's important to stay focused on what matters most to you. With the right tools and planning, it's easier to choose a senior apartment floor plan that fits your life. 
Tips for Comparing Senior Apartment Floor Plans
We put together the following tips to help you when evaluating a senior living floor plan:
Does the room size and layout fit your needs? Consider your current living situation when gauging how much space you need in an apartment floor plan. Perhaps you don't see yourself using an extra bedroom, bathroom, or den in your new apartment. Also keep in mind that functionality often matters more than square footage. A smaller apartment that's designed to maximize efficiency may serve your needs better than a larger apartment with a less-than-ideal layout.
What appliances are included? It's important to choose an independent living apartment that includes all the appliances and other features you'll use on a regular basis. Each residence in Lake Port Square has a fully equipped, all-electric kitchen including an oven with range and frost-free refrigerator/freezer. Many apartments also feature a washer and dryer, as well as a community laundry room as needed.
How much storage space is there? Choosing a floor plan with adequate storage is the key to creating an organized home, especially when you're moving from a larger home to a one- or two-bedroom apartment. With the right storage solutions in your new apartment, you may not have to downsize as much as you think! 
Is there an outdoor space to enjoy? Having your own private patio or outdoor space provides a retreat that's perfect for sipping coffee or watching the sunset. At Lake Port Square, every independent living apartment has a screened-in lanai that's yours to enjoy.
What's the pet policy? If you're planning to bring a furry friend to your new apartment, it's important to review the pet policy and ensure the floor plan works well for both of you. Lake Port Square is pet-friendly for small pets, with plenty of outdoor space to enjoy with your furry friend!
Making the Most of Your Space
Are you looking at senior apartment floor plans and trying to decide how much space you need? Understanding how much square footage you need and how to arrange your furniture and belongings can help you move forward with confidence. Here are some steps to help you make an informed decision:
Review floor plans

to help you visualize how you can best utilize the space. Check out our

2D and 3D floor plans

at Lake Port Square to see how a well-designed apartment layout helps maximize square footage.

Measure furniture

to get an idea of how each piece will fit into different floor plans. 

Map out potential layouts

to determine the best way to arrange your furniture. 

Gather your design ideas.

It's exciting to think about the layout of your apartment and all the personal touches you'll add to make it feel like home.

Bring your vision to life.

Work with a senior living representative at Lake Port Square to review all the options you have for wall colors, flooring, and other finishes in your new apartment.
Find Your Ideal Home at Lake Port Square
There's never been a better time to explore the wonderful array of senior apartment floor plan options at Lake Port Square in Leesburg, FL, where you'll also love our scenic campus and vibrant, active lifestyle.  If you're looking for two-bedroom floor plans designed to maximize efficiency, we encourage you to check out our Kimball, Dora and Benton floor plans. Connect with our team to schedule a tour, and let us show you around!