Benefits of Art Therapy and Painting for Seniors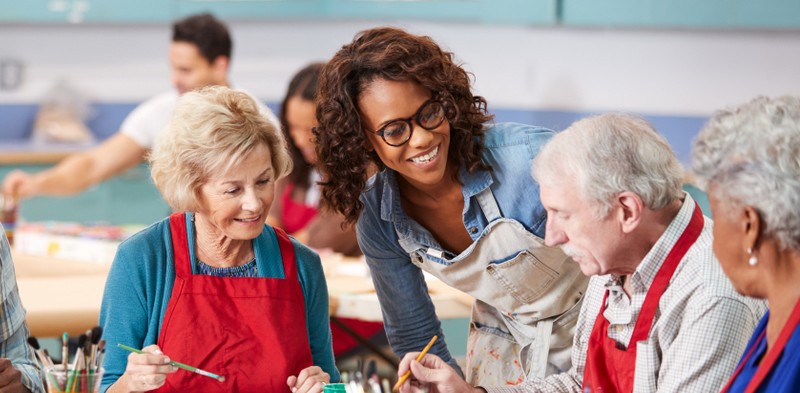 Art is a relaxing and inspiring activity for people of all ages. It stimulates the senses, engages the mind and creates a path to peace – especially for seniors.
So how can something like the simple swipe of a paintbrush help older adults live a healthier lifestyle? Find out by taking a closer look at these benefits of art therapy for seniors.
What Is Art Therapy and How Is It Different from Traditional Therapy?
Art therapy is the application of visual or instrumental arts in a therapeutic context. Unlike traditional therapy, art therapy uses nonverbal techniques to aid in self-discovery, resolve distress and promote self-expression.
Through art therapy for seniors, many older adults can find new ways to communicate and create closer connections to the surrounding environment, which can be helpful for people  who have trouble facing their emotions.
The best part about art therapy is that it uses a range of activities suitable for any skill level, such as coloring, cooking, dancing, drawing, knitting, painting, photography, singing and writing.
Art Therapy Can Help Seniors Feel More Independent 
Creating a work of art that's completely their own can help seniors who feel overwhelmed or like they're losing their independence gain a sense of control. The slow, intentional movement of a paintbrush or a carefully placed word in a poem offers a sense of accomplishment, self-sufficiency and pride.
Through this newfound sense of control, seniors can build self-confidence, find creative ways to solve problems, and create something they can show off to their friends and family. Art therapy is the perfect addition to the activity list at retirement homes.
Group Art Therapy Is a Great Way to Get Seniors Socializing
Group art therapy for seniors can increase socialization, which can improve your loved one's mood and lead to lasting friendships. Senior living communities, like Lake Port Square, have arts and crafts studios that offer residents an easy way to socialize and celebrate self-expression at the same time.
Knitting circles and quilting clubs are also great ways to experience the social benefits of art therapy. Plus, the small movements required for sewing, knitting and crocheting are excellent for improving hand mobility.
Stay Creative and Keep Sharp by Exploring Something New
The creative practices learned in art therapy for seniors have been shown to enhance the development of newer neural pathways. This means the brain's physical functions continue to develop and remain at a higher level.
The brain-boosting benefits and sensory stimulation of art therapy are especially helpful for seniors with dementia. Though the brain may age, joyful memories can be cultivated through creativity throughout a lifetime.
Art Therapy for Seniors Increases Mental Wellness
Art therapy can reduce feelings of depression, stress and anxiety. That's because it helps seniors divert their free time to something productive and provides an outlet for suppressed emotions that may affect their mood.
Aging comes with a lot of frustrations. Focusing on something positive like making a collage, listening to music,or drawing can be a welcome distraction for seniors who feel anxious about what the future holds.
Creative Practices Can Help Manage Pain
While art therapy isn't a replacement for physical therapy, it can still help seniors manage pain. The primary way is by moving a person's mental focus away from physical pain and teaching them how to alter their mood, even though they may not be feeling their best.
Art therapy for seniors may even reduce inflammation, because creative practices lower cortisol levels. High levels of cortisol have been linked to increased inflammation and greater pain sensitivity.
Find Inspiration in Nature
Sometimes, it's hard for seniors to get started on their path to self-discovery through art therapy. One of the best ways to awaken someone's inner artist is by spending time in nature. Not only does the openness of nature spark wonder and contentment; it also decreases mental fatigue and improves concentration.
So the next time you're with your loved one, take a stroll in the garden or spend a little extra time admiring the green on the golf course, because you never know how you'll be inspired by the world around you.
The Journey to Self-Expression and Unleashed Creativity Starts at Lake Port Square
From our 78 acres of landscaped grounds and gardens to our arts and crafts studio, we have spaces to let creativity flow at Lake Port Square. To learn more about our retirement community in central Florida, fill out our contact form or send us an email, and a senior living representative will be in touch shortly.