Top Senior Living Dining Trends for 2020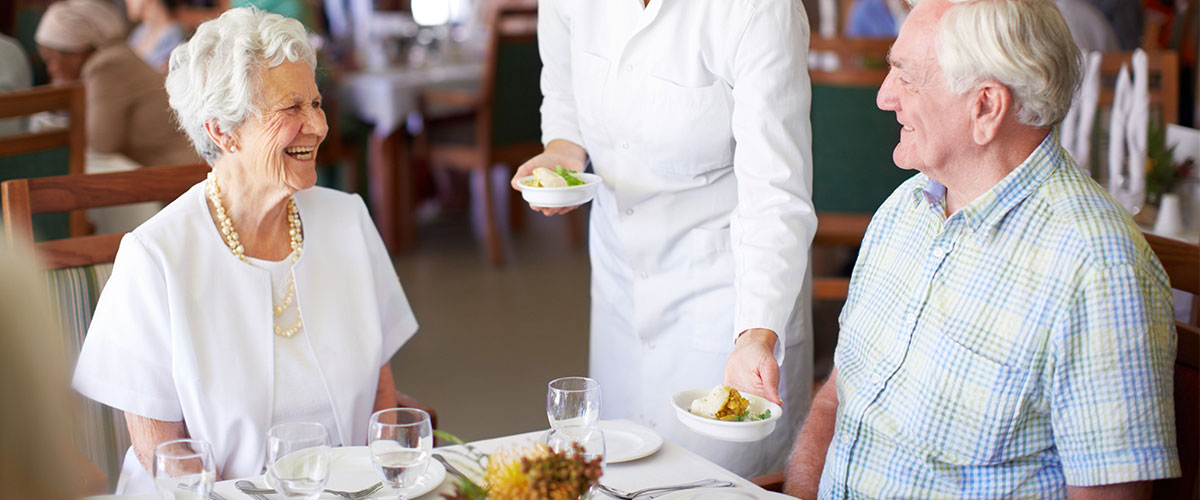 The dining experience at many senior living communities is changing and for the better. Gone are the days of the herd mentality where everyone lines up at a buffet table at 5 o'clock in a stodgy dining room to fill their plate with the same, predictable senior living meals week after week.
Today's seniors have high expectations. They tend to be healthier, more active, well-traveled and definitely food-savvy. In return, senior living communities are reimagining their dining programs to exceed expectations. They're setting new senior living dining trends by trading in the traditional dining hall for choice-filled restaurant-style venues, many of which rival restaurants found in neighboring cities and towns.
Take a look at six innovative food and dining trends in senior living
1. Creating a Dining Experience
Baby Boomers are a social, dinner party crowd and they like to be entertained. That's why one of the more popular senior dining trends is open exhibition kitchens and interactive stations where residents can choose their ingredients and have dishes cooked to order. Exhibition kitchens and interactive stations elevate the experience by letting residents watch chefs in action, see how their entrées are being prepared, and even pick up cooking tips along the way. Many communities offer cooking classes, chef talks and cooking demonstrations to further the experience.
2. Providing More Choices, More Venues, More to Love.
Who eats lunch at noon and dinner at 5  every day of the week? Today's next-gen seniors are active and busy. So when it comes to dining, they want the options they're accustomed to — a variety of casual, high-quality restaurants, loaded with choices, with extended hours to meet their schedules.
One of the biggest senior dining trends is having multiple dining venues that cater to a wide array of tastes. Among the most popular are café bistros that provide a casual, social experience along with flexible dining hours. Some have hearth pizza opens, and most offer made-to-order handhelds, hearty omelets, fresh salads, homemade soups, vegetarian and vegan options, delicious desserts, and grab-and-go choices. And there's no difference between independent living and assisted living meals. Everyone enjoys the same delicious fare.
Other common venues include coffee shops with fresh-baked pastries and muffins; charming pubs or taverns that feature craft beer, wine and unique menus; and dining al fresco. Of course, when you're in the mood for a formal experience, many communities still offer upscale, full-service dining venues with exquisite four-course culinary delights, gracious tableside service, and creative menus featuring fresh nightly specials and long-loved comfort foods.
3. Hiring Top-Caliber Chefs
More and more, communities are taking a page from the hospitality industry handbook by hiring renowned chefs and other culinary team members with a world of experience and engaging personalities. It's now commonplace to find that a senior living community's executive chef trained at the best culinary schools around the globe and come from 5-star restaurants, hotels, resorts and clubs. Each brings unique flair and expertise to create inspiring menus featuring their creative cooked-from-scratch specialties, international fare and down-home favorites. And don't be surprised to find sous and pastry chefs in the kitchen as well.
4. Embracing Farm-to-Table Cuisine.
People are becoming more engaged with their food and they want to know where it comes from and how it's prepared. That's why farm-to-table dining is a rapidly growing innovative food and dining trend in senior living.Fresh, seasonal, locally sourced ingredients are becoming mainstays on many retirement community dining menus. They can include fresh fruits, herbs and vegetables from local farms, meats and seafood that are responsibly farmed through humane and sustainable practices, cheese, milk and ice cream from area dairies, and even honey. Many communities have gardens that residents tend and regularly donate fresh fruits and produce for all to enjoy.
5. Centering on the Individual.
Another senior living dining trend sweeping the industry is an emphasis on the individual. Culinary teams are collaborating with residents to ensure their wants and needs are met. This goes beyond typical satisfaction surveys.
For special dietary needs, registered dietitians help create menu selections for those with food allergies, as well as adding heart-healthy, low-sugar, low-salt or gluten-free options. It's also common for an executive chef to hold monthly "sit-downs" with residents to discuss their likes, dislikes, and what they'd like to see on the menu. This may include encouraging residents to share favorite family recipes or accommodating a resident who loves his chili served with a side of iron skillet cornbread just like his mom used to make. It's all about keeping each resident healthy and happy.
6. A Focus on Venue Design.
A great deal of attention is being put into the physical design and atmosphere of today's dining venues. Venues are becoming more intimate and unstructured to provide comfort and promote socialization.
Since few people regularly eat in their formal dining room at home, we're seeing venues where more inviting living room-style seating areas are replacing some of the standard table and four chairs. Bar tops and peninsulas are becoming more common, and they're lower so seniors can sit comfortably and accommodate those with mobility devices.
Designers are adding expansive windows to let in natural light and scenery, improving acoustics and adding Wi-Fi  and charging ports for smartphones. They're opening up spaces to make them easy to maneuver, and at the same time, provide plenty of space for holiday celebrations, special events and family get-togethers. Today's dining venues aren't  just a place to eat. They're welcoming gathering spots to relax in and enjoy.
Follow the Trend
Creating joyful, rewarding dining experiences are a top priority for many senior living communities, including Lake Port Square. Lake Port Square is ahead of the curve when it comes to offering a delicious variety of fresh, healthy chef-prepared choices in all our welcoming dining venues, including the casual bistro. Explore our website to learn more about our top-notch dining program and the freedom of independent living at Lake Port Square.