Managing Medications for Seniors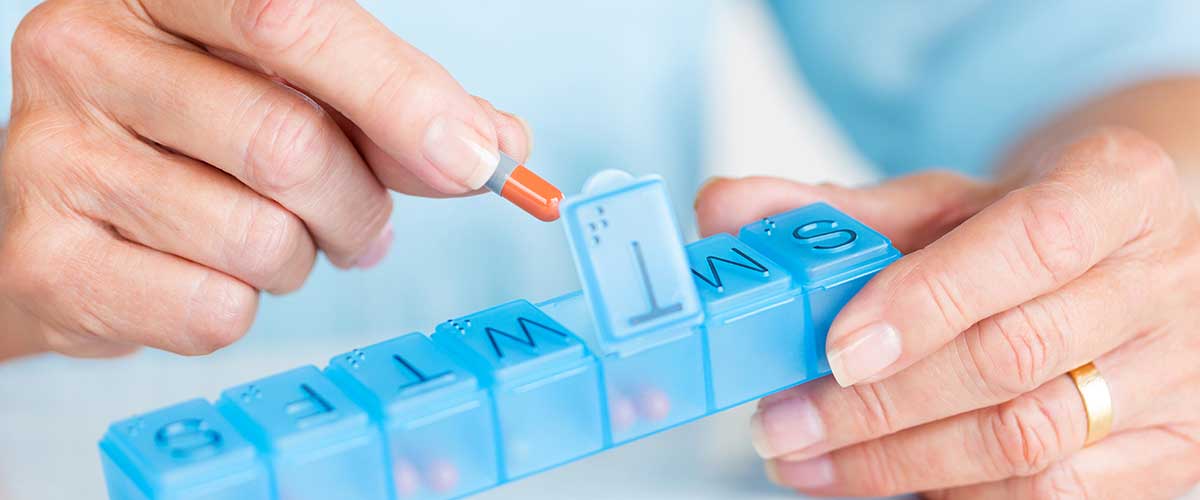 Many adults over age 65 use a variety of daily medications and supplements, ranging from pills and liquids to creams and sprays. This senior population consumes an average of five drugs each day — more prescriptions than any other age group.
Being responsible for a medication routine can be daunting. Medication management for seniors is a detailed task requiring in-depth knowledge, organization, concentration and adhering to strict schedules. It involves juggling multiple pills of various sizes, colors and shapes, and ensuring they're filled and separated. Managing medications for seniors also requires remembering to take the proper medication at the correct time and recognizing adverse reactions and symptoms.
Understandably, this can be an overwhelming and stressful responsibility for seniors, which is why many choose to move to an assisted living community where a skilled health care team handles elderly medication management responsibilities.
What is elderly medication management?
Some chronic conditions such as diabetes, high blood pressure and arthritis require a complex medication regimen. It's not uncommon for seniors to forget to take their medications at the right time. Or they might ignore taking them all together because they think they're expensive, ineffective or bothersome.Medication management for seniors helps ensure instructions and treatment plans are followed carefully. Assisted living communities have care teams that play a critical role in assessing residents, reviewing medications for possible side effects, and developing short- and long-term treatment plans. They also provide instructions and education, monitor medication safety and efficacy, document prescriptions, and establish how to remind seniors to take medication.
Dangers of improper medication management
Seniors frequently require multiple medications to treat chronic diseases and other health conditions. However, many drugs look similar in size and shape, and taking the wrong combination or dose can result in negative consequences.Additionally, many medications have side effects, including fainting, dizziness or blackouts, grogginess, fatigue or muscle weakness, increased or decreased appetite, anxiety or irritability, memory loss or confusion, or depression. That's why seniors need to understand drug interactions and side effects, and to follow dosage instructions and storage closely.
7 caregiver tips for elderly medication management
1. Create daily habits around when medications need to be taken. Administer prescriptions at the same time each day, such as during a morning news show or afternoon talk show. This can help prevent a missed or duplicate dose.
2. Keep medications stored safely and out of reach of children and pets.
3. Check expiration dates for prescriptions and over-the-counter products.
4. Dispose of out-of-date medications.
5. Be aware of behavioral changes that might be caused by a new medication or infection.
6. Make sure you or your loved one can obtain prescriptions via delivery or in person at the pharmacy.
7. Be mindful of any signs of deterioration or difficulty swallowing.
Medication reminder alarms for the elderly
Safely managing medications is essential, but it can be a challenge for seniors and caregivers to remember when to take doses of multiple medications. There are several simple ways to track medications — from paper and pen to specialized phone apps.
On a piece of paper or sticky note, write a list of your medications and the day and time you take them so you can refer to it throughout the day.
Create a basic chart or spreadsheet with the medication name and dose, day of the week and time of day. After you take each dose, record it with a checkmark or X.
Set alarms on your smartphone with times during the day to take your meds.
Ask caregivers, loved ones and friends to help you remember.
Add reminders to your calendar or planner.
For tech-savvy seniors, Healthline recommends these five medication reminder tools:
1. Medisafe Medication Reminder — A smartphone app that tracks prescriptions (for multiple people if needed) and reminds you when it's time for a refill.
2. Tabtime Vibe Vibrating Pill Timer Reminder — This medicine organizer features five compartments with beeping/vibrating alarms to alert you when it's time to take your medication.
3. Med Minder — A pill dispenser that holds four daily doses of meds and gives digital reminders in the form of lights, beeps and mobile alerts.
4. PillPack — This does the dosing and scheduling for you with medications delivered to your doorstep.
5. E-pill Once-a-Day Reminder — A good option for seniors who only need to take one daily pill.
Questions to ask when managing medications for seniors
When deciding if it's the right time to move your parents or loved ones to an assisted living community to help with medication management, here are some questions to consider:
Are they 75 years or older?
Do they take multiple medications or have two more medical conditions?
Do they have vision or hearing issues?
Do they have mobility challenges or memory impairment?
Can they make it to a pharmacy safely?
Medication management for seniors in assisted living communities
Many senior living communities offer a full continuum of health services, including medication assistance, monitoring and administration. Care teams know every prescription and over-the-counter medicine residents are taking, as well as relevant health information:
Resident's medical history.
Medication name, purpose, strength, refill information and expiration dates.
Dosage instructions, including what to do if a dose is missed.
Potential side effects, social changes, allergic reactions, and risks associated with each medication.
Over-the-counter medications to avoid.
Which medicines to take with food, water, or on an empty stomach.
When to report reactions and symptoms to a physician.
Proper medication storage to avoid moisture and heat.
Assisted living at Lake Port Square
Sometimes all you need is a helping hand, which is just what Lake Port Square offers seniors in Leesburg, Florida. Because we're a Life Plan community, you can enter Lake Port Square right at the level of care you need. We're here to help with basic activities of daily living — medication management, bathing, dressing and grooming, and personal maintenance. We educate our residents and help them manage their medications properly, which results in better health outcomes and treatment. Learn more about our assisted living and other residential options.