How Is Assisted Living Different Than a Nursing Home?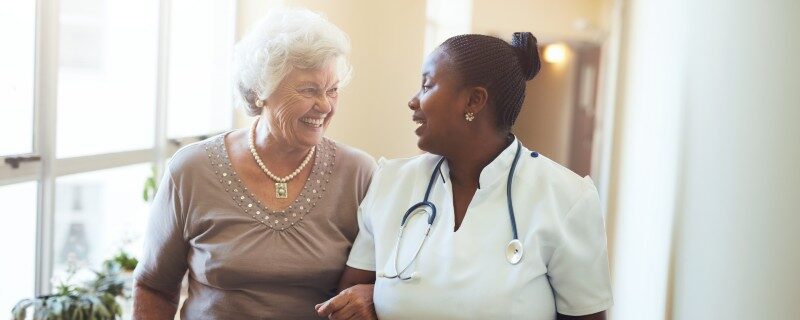 As you begin researching senior living options for your loved one, you're likely to come across a lot of confusing industry jargon. You know your family member needs some level of assistance to live a high-quality life, but aren't sure what kind of place can best meet their physical needs as well as their social and emotional needs.
Assisted living vs. nursing homes: What's the difference and which senior living option is best for your loved one? Find out in this quick guide created by our experts at Lake Port Square.
What Is Assisted Living?
There are free-standing assisted living facilities, but many people prefer the type of assisted living typically found in a neighborhood-like setting within a senior living community. It's designed to help older adults with daily activities and provide opportunities for plenty of social interaction.
While help from an expert care team is available around the clock, this care is tailored to each resident, offering them only the types of assistance they need and only when they want it. The goal is always to help each person continue to live as independently as possible.
Here are just a few basic activities of daily living your loved one can expect help with at an assisted living community, like ours at Lake Port Square:
Getting dressed
Managing medications
Using the bathroom
Transferring from one place to another, getting out of bed and walking
Bathing, showering, brushing teeth and other personal hygiene tasks
At our 55+ senior living community in Leesburg, Florida, we design a customized care assessment for every resident that's updated throughout their time in our community. This allows our team to understand the unique needs and preferences of each resident, and provide personal assistance to help them maintain an independent lifestyle.
Assisted Living Provides a Complete Retirement Lifestyle
It's not uncommon to find beautiful, maintenance-free residences in assisted living neighborhoods in senior living communities, along with a variety of amenities that provide abundant wellness and social opportunities. Features like beauty salons/barbershops, indoor aquatic centers, fitness centers, arts and craft studios, game rooms, and libraries all help residents live a healthy lifestyle and build relationships with their neighbors.
At Lake Port Square, we take things a step further by also featuring these amenities:
Banking services
Four-hole putting green
Ice cream parlor
Therapy room and hot tub
Wellness center
Our senior living community also features 78 acres of landscaped grounds and gardens within a certified nature preserve. Residents enjoy strolling along the gorgeously maintained walking paths, tending to our community garden, fishing from our pontoon boat, and admiring breathtaking views from our lakefront gazebo and dock.
Assisted Living vs. Nursing Home—What's the Difference?
A nursing home is a permanent residence for older adults who need constant medical care; it's usually the highest level of care for older adults outside of a hospital.
When it comes to assisted living vs. nursing homes, the biggest difference is that residents in assisted living primarily need help with activities of daily living (ADLs) like bathing and eating, while those in a nursing home need help with ADLs, plus regular medical services like assistance with catheters, IV drips, and ventilators.
To receive a nursing home level of care, older adults must meet certain requirements based on medical conditions, functional needs and behavioral factors. This is determined through an evaluation performed by a physician or registered nurse.
Both the cost of assisted living and care in a nursing home depend on their geographic location, level of care and assistance a resident requires, and amount of services and amenities available. Schedule a tour at a retirement community you're interested in to find out more about the cost of senior living.
Which Senior Living Option Is Right for My Family Member?
If your loved one doesn't need 24-hour medical care, but could use a little extra help with things like remembering to take medication, button their shirt or tying shoes, rising from a seated to a standing position, or shampooing their hair,  assisted living might be the best choice for them.
A move to assisted living before your family member needs advanced levels of care can help them preserve an independent lifestyle for longer.
In communities like Lake Port Square, assisted living residents have priority access to long-term care in skilled nursing and short-term rehabilitative services, should they ever need it. This means they never need to leave the community to receive the personalized care they need for a happy and healthy retirement.
Learn More About How Your Loved One Can Thrive in Assisted Living at Lake Port Square
Assistance with activities of daily living and companionship at just the right time – it makes all the difference. See how assisted living at Lake Port Square provides personalized care catered to your loved one's specific needs, while also offering all the comforts of home. Schedule an in-person tour of our senior living community today by contacting our senior representatives online. We'll be in touch shortly!