How to Make Your One-Bedroom Stylish and Spacious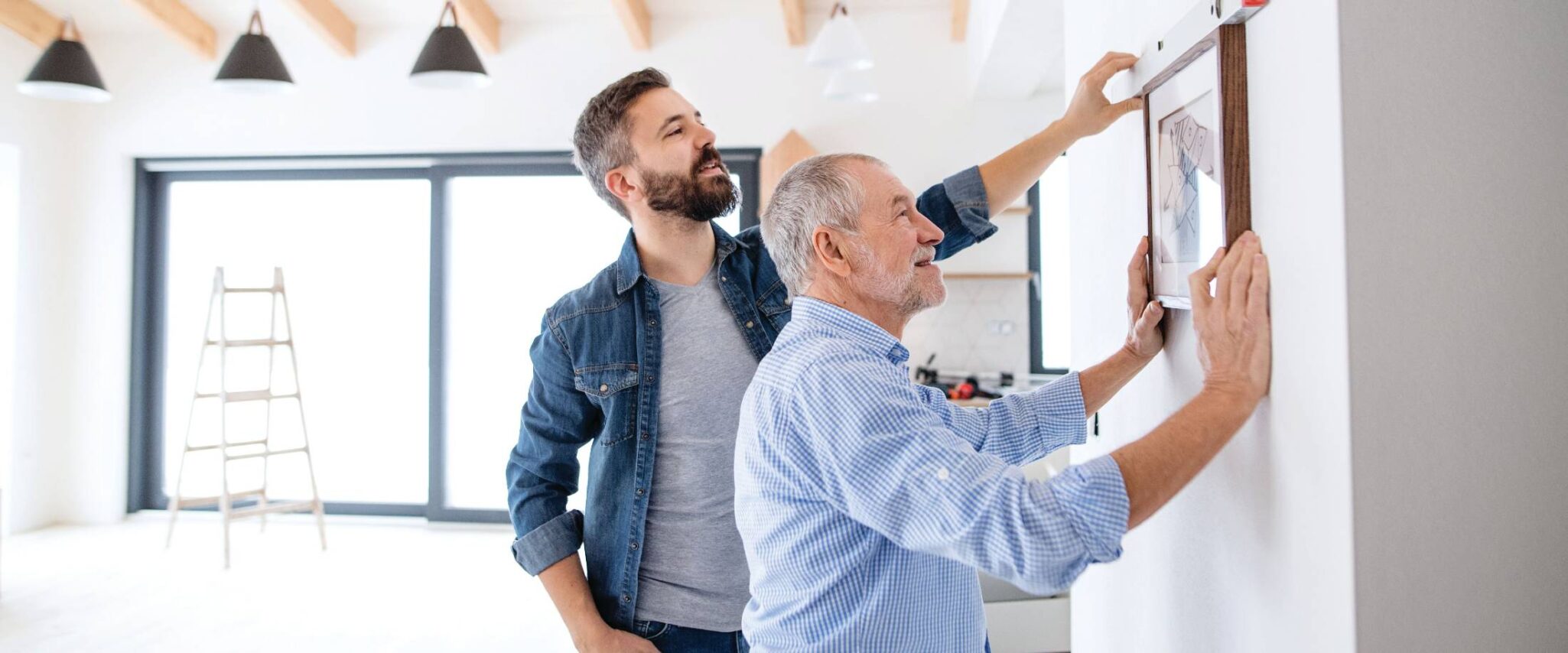 When you're used to living in a home with multiple bedrooms and living spaces, decorating your new one-bedroom senior apartment may be a challenge. Knowing how to combine function and comfort in a smaller space takes thoughtful planning and clever design, and your own personal touches can make the rooms cozy, comfortable and enjoyable. Here are 10 tips explaining how to decorate your one-bedroom apartment. We hope these inspire you to create a living space you'll be proud to call home.
10 Tips for Decorating a One-Bedroom Apartment
1. Get in the zone.
Whatever the size of your new living space, it's possible to create "zones" within it. Evaluate the layout and think about other ways you could use each space. If you love to read, then all you need to make it happen is a well-lit corner with a bookshelf and a comfortable chair — who cares if it's in the bedroom or the kitchen? Perhaps you need a home office or an area for crafts? Experiment with places where you could tuck a desk and chair or set up a crafting table and store supplies.Wall color, carpets, soft or hard furnishings, a piece of art, or other visual cues can help delineate each zone in your one-bedroom senior apartment. The changes don't have to be dramatic — even a slight shift in color, textiles and decor will differentiate spaces. Furnishings are the quickest way to section a space off: think about bookshelves, room dividers, or rugs under a grouping of chairs. You can add to this intentionality by using different colors in different zones. An easy solution is to pick two or three colors and use this palette throughout your apartment, emphasizing certain hues in certain areas. It's an inviting and cohesive appearance that doesn't look like you tried too hard. Avoid using too many colors, as this will overpower a small room.
2. Be careful with proportion.
Furniture can make a one-bedroom senior apartment feel spacious or cramped depending on its proportions. Opt for pieces that are streamlined rather than bulky. Full-size sofas usually don't fit in a one-bedroom apartment, and they aren't as versatile as a loveseat or a couple of oversized chairs. If you feel you need a sofa (especially one that pulls out into a bed for the occasional guest), opt for a slimmer silhouette that is appropriate for the space.
3. Dispense with the rules.
You don't "have" to have a dining table. If you anticipate having most of your meals in the restaurant or dining hall, consider a drop-leaf table that can be tucked away when not cooking at home, or skip the dining table altogether. You could install a Murphy bed and push it up and away, transforming your sleeping area into a yoga zone. There are countless ways to imagine your space — you're in charge.
4. Plan for visitors.
A smaller home can be as welcoming to guests as a larger one. If you intend to have regular guests, plan for the number of people you expect to host at one time. Choose furnishings that will work for the group you expect to see most often; this could be a coffee table with stools nested below, a set of bar stools tucked under the kitchen counter, or a stack of folding chairs and a card table stored in a closet. Now, plan your housewarming party, and ask your guests for feedback!
5. Be storage minded.
Clutter makes even a big space feel crowded, and when you're living in a one-bedroom senior apartment, you have to be vigilant about clutter invading your space. Storage that serves a dual purpose is especially useful.One area that can become quickly cluttered is the area by the front door, a catchall for shoes, umbrellas and other miscellaneous objects. This is easily solved with a storage bench, giving you a comfortable seat while putting on or taking off your shoes, and storage cubbies where you can stash shoes and items like scarves, mittens or umbrellas.See how you can get extra use out of other furnishings. Look for unused spaces begging to be filled. Tuck extra linens into the drawers of your TV stand, or add baskets under end tables to hold items you want within easy reach, such as TV remotes, magazines or knitting supplies.
6. Try going up.
You can add a lot of functional space to your home by thinking of the walls as an extension of your overall square footage. A collection of baskets attached to the wall can hold any number of items, from utensils and gadgets in the kitchen to your keys and sunglasses near the front door.Another option: Floating shelves — used solo or in a grouping for small items — are a handy way to use wall space. Just keep safety and aesthetics in mind and avoid overfilling the shelves. They work equally well for an unused corner of the kitchen and a collection of infrequently used dishes, or the bedroom for displaying personal keepsakes and photographs. If you have a collection of items you won't use often but can't bear to part with, an often overlooked spot is the ceiling. A row of storage cabinets at ceiling height can be an attractive design element that doesn't get in your way but increases your apartment's storage capacity.
7. Master the art of illusion.
Just like stripes make a person look wider or taller, certain design tricks fool the eye into thinking a space is larger than it is. Designers often use tall mirrors with stylish frames to add light and depth to a room. Another favorite trick is to hang extra-long curtains at or near the ceiling to draw the eye up and give the illusion of height. You'll find that featuring one large piece of artwork rather than several smaller pieces gives a clutter-free look. And match your sofa to the wall to make it fade into the background, so the room feels bigger.
8. Bring in the light.
Cheerful natural light is a must for creating a feeling of space. By all means, use window treatments for privacy at night, but draw them aside during the day to take advantage of natural light coming in through the windows of your one-bedroom apartment. Prefer lighter-textured drapes to make the most of the sunlight, as heavy drapes can weigh down a room and make it feel darker, even when they're open.Where to add light fixtures? An easy method is to look for dark corners and figure out how best to supplement the light there. Floor and tabletop lamps can take up too much space, so opt for wall-mounted fixtures to add the light you need while keeping surfaces free for other uses.
9. Breathe in the outdoors.
Many one-bedroom senior apartments include a patio or balcony area. Look at it as an extension of your usable square footage when the weather is agreeable. It's also a fun area to decorate, especially if you can enjoy the outdoors most of the year. Shades or screens will keep the space protected from too-hot sun and bugs. Planters are a must for flowers and perhaps a kitchen garden. An end table with a built-in ice reservoir for beverages turns your patio into a party zone. A lounger with soft cushions makes this a great spot for a nap. Customize this space for your needs.
10. Embrace the awkwardness.
Small spaces can be quirky. There may be alcoves, soffits and columns in odd places, or wall space in an awkward spot. These architectural elements are opportunities to infuse some character and charm into your space.Is there a nook that would fit some custom-built shelves or a built-in desk? Is the space above a cabinet a place to display woven baskets or a floral arrangement? Is there a wall or column that you could accent with removable wallpaper or an accent color of paint? Try it out and see what works for you. You can always change it later if you don't like it.
This is where you shine
This new home is all yours. It's the launching pad to a brand-new lifestyle where you're in charge. So with all our tips in mind, let your personal taste shine through. Let your new one-bedroom be a reflection of your personality, experiences, interests and style.
And most importantly, fill it with happiness, laughter and love. Invite your family and friends over, snuggle with your pet if you have one, and settle down to enjoying life in a senior apartment that's just right for you. Call us to learn how you can enjoy a liberating independent lifestyle in a one-bedroom senior apartment that's just right for you at Lake Port Square.